Well I mean to write about this yesterday, but I forgot and got sidetracked by Pulp Fiction[/url]!
Anyway if you didn't know, theres been a big brouhaha about Sarong Party Girl[/url] and her posting a nude picture of herself on her blog.
I've read her blog for quite some time, she writes well, is articulate and has an interesting life, a very colourful polygamous life.
If you haven't seen it, here's the full article (It was published in The Star, but it was written by the Straits Times and reprinted).
Naked blogger sets Net community abuzz
By Melissa Lwee and Serene Luo
The local blogging community is buzzing after a local girl posted nude pictures of herself on the Internet.
Writing under the moniker Sarong Party Girl, her weblog on https://sarongpartygirl.blogspot.com chronicles her life and numerous sexual escapades.
But though she is posing nude, most lawyers interviewed said that she is probably not breaking any obscenity law.
Lawyer Jonathan Kok, from Harry Elias Partnership, said: 'It's a grey area. If someone were to flash himself physically, it's very clearly an obscene act. But on the Internet, it's a grey area.
'Whenever there's a public outcry, it means the issue has crossed the boundary of public decency. In which case, the authorities would probably step in to tell the Internet Service Provider or write directly to the person involved to fix the problem.'
When interviewed, the girl, a 19-year-old waiting to enter university, revealed that the blog is kept secret from her parents, but maintained she is not ashamed of her photographs.
'There is nothing wrong with having a nude picture of yourself published or on show, as long as there is an artistic and aesthetic value to it and these pictures were nice.'
Since she started her blog in February last year, she has gathered a daily following of about 3,000 readers.
Bloggers like 22-year-old Gabriel Seah think nothing of her lack of inhibition. 'The Internet is a free society, there is no reason why anyone should not do this, because it doesn't hurt anyone.'
But others like Mr Ng Heng Ghee, a 33-year-old IT technician and father of two, frowned on it.
'What she has done reflects badly on her parents because it shows that they did not bring her up well.'
I think mentioning her parents is well out of line, this is kindergarten journalism, do these two people know anything about blogging, the blogosphere? blogging culture?
Does Mr Ng have nothing better to do at Nanyang than read sexually explicit blogs?
If you want to contact him to voice your concern as his opinion you can do so:
Mr Ng Heng Ghee
IT Executive
Office: Room 03-28
Phone: 67906338
Email: thgng@ntu.edu.sg
You can see the general stupid closed minded attitude that bothers me on a Singaporean forum HERE, mostly flocking like sheep, unable to think for themselves, unable to see the big picture and the larger implications.
It was a cheap shot and it's out of order, it's made blogging look even worse for those people that know little about it, some Bloggers even might be forced to quit, or have at least gotten into hot water about it. (See Little Girl In A Reverie).
So someone showed a nipple, is it such a big deal?
BTW the post in question is Martine, Martine.
It's not like she hasn't been naked the whole time on the header of her blog, it's just she's not showing any nipples?
My nipples are available for viewing on the Internet, *if* you really want to see them..
Kenny Sia has got his nipples out too in a replication of the original SPG shot.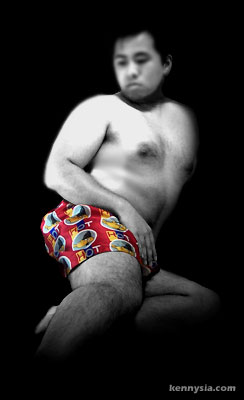 I could go on and on, and I think I'll probably write to the The Star[/url], and you should too, but I'm very busy, so I shall leave it here.
It was also covered by SMH in Australia.
Other peices on this subject:
Kenny Sia – The Sarong Party Girl Controversy
Mack Zulkifli – Talk about sensationalism of a nude blogger
Comments
comments