So….as you know, we had a party, a big party, a fun party…
Warning, this is a image heavy post.
KY has posted a report with a few pictures HERE
It's actually my birthday today along with God, so happy birthday to me and him.
Faggots birthday is coming on Thursday.
I heard on the radio I share my birthday with Ayrton Senna, Bach, Gary Oldman, Timothy Dalton and Mathew Broderick.
The party…
* Loads of booze
* Loads of food
* Loads of people (and hot chicks)
* Dancing
* Falling down
* Puking
* Passing out
* Police intervention
Yeah just how a party should be..
Hwachai[/url] drew a great flyer for the party..
The three birthday boys kicked the party off with a Gin & Juice special mixed by KY..it was more than 1/3rd of a bottle of Gin and man it had some kick…
We had to enlist some help in finishing it off..
Even at the beginning there was a ton of booze..
I think we made it like 4 bottles of Chivas by the end plus pretty much everything else, the Gin was finished within the first 1.5 hours.
The fridge was pretty loaded too, but that didn't last too long either..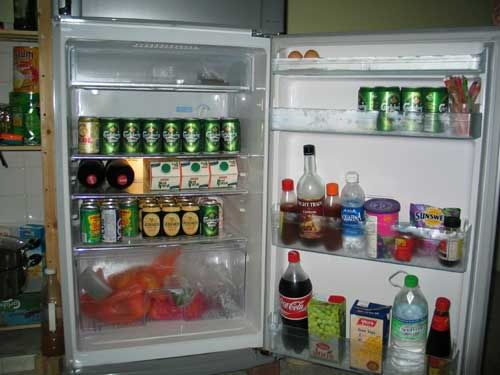 There was also tonnes of food..I bought 50 chicken wings, which disappeared extremely quickly (the infamous SD chicken wings..) I only managed to have 1!
KY finally managed to get a disco ball, so we really had a proper dancefloor this time
With people actually dancing!
The happy dancing gang..
We had cake too, banana and chocolate, it was good!
Unfortunately it ended up IN MY EAR, thanks God…
Things got kinda messy in places..
The police turned up around 12.15, they came again a second time, I have no idea when as I was completely wasted by 1am..
There were plenty of hot chicks..
And drunken fools
God was totally out of it, and turned into a Gorilla as per usual, he had to be man-handled into the car and sent home..naughty boy
There was some bloggers that turned out too, can you work out who is who?
Of course due to the nature of my t-shirt, I had to do a porn star pole dance 🙂
That's about how it went down..
Full gallery is HERE, I'll add more pics as I get them from KY and possibly Janice.
Reasons why this is MUCH better than clubbing..
* It's not jam-packed, sweaty and claustrophobic
* There's food, drink, music, dancing, places to sit and somewhere outside to hang out
* There's every variety of alchohol you can imagine
* There's an unlimited amount of every variety of alchohol you can imagine
* Club entry 40 bucks, 1 bottle = 300+, house party, buy a bottle from Giant ~80 bucks
* Dancefloor with hot chicks
* Chill out area with more hot chicks
* SD Chicken Wings!
And so on, needless to say, house parties are the answer, unless you have some neighbour who has a stick in his anus and keeps calling the police after midnight.
To the neighbour, GO FUCK YOURSELF.
Total turn out was well over 30, reaching near to 40 at points I think, loads of people came and got to catch up with some people I haven't seen for quite some time.
I'm glad we quit the whole BBQ thing as it's too much like hard work and some people will end up not having much fun, BBQ should be just BBQs and let's keep the parties seperate.
In saying that, let's have a BBQ soon, no particular occasion, just loads of food and beer 🙂
A huge thanks to everyone for showing up, it was a great party 🙂
Chilled on Sunday, ate loads (Ikan Bakar, Hokkien mee, glasses and glasses of soya bean), then went to Summit to watch, might review it later, cute movie, then had some Burger at SS2, went home, cropped and uploaded the photos..
I have some really headache (and costly) things to do this week before I get put in a box and shipped to Colombo, so I better get them done…
Happy bday to me, Happy bday to me, Happy bday dear ST, happy bday to me..!
Comments
comments