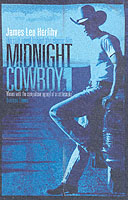 Midnight Cowboy is the powerful and unforgettable novel of the compelling need of human beings for one another — a wrenching story of pain and loss.

Freewheeling loser Joe Buck arrives in New York City and embarks on a quest to live the American dream. Along the way he meets street hustler and petty criminal Ratso Rizzo. Together, the two form an extraordinary relationship full of heartbreak and hope, resulting in a compelling American novel about the bonds of friendship.
An academy award winner in 1969 in spite of having an X rating, this is one of those classic films that I guess many of you have watched (Midnight Cowboy Movie), I saw the book in popular so decided to pick it up (it's the UK paperback edition).
This is a very well written and well-paced book, it has excellent character development and has a certain way of strolling along that keeps you firmly in its grip.
It raises some interesting moral issues, and a lot about self-perception and ego.
Genital Joe as we could call him is the epitomy of lost youth losing his virginity to some Annie Rottencrotch, he has all the wrong ideas about sex and sexuality.
Being a good looking lad, tall and well built he goes out to make his millions in the world. Like most of us, he ends up finding reality stinks and not much more than that.
The book rolls along and it's hard to put down, it's not lightning fast but it sucks you into the dirty seedy world that Joe falls into.
I finished the whole thing in about 3 hours and thoroughly enjoyed it.
The writing may seem a little simplistic to some, but that's what gives it such a raw and honest charm. It's very real, real people and a real story.
It's gritty at times, explicit, violent and raw but can also be touching showing interesting aspects of humanity.
If you want to read something 'different' than all the pop shit churned out a the moment, take a look at this.
I think it cost me the grand total of RM5.90.
I give it a solid, well-paced 9/10.
Comments
comments